HOME
FARM SHOP
BUTCHERY
DELI
ABOUT US
NEWS
COOKING

The Art of Stew
There are an infinity of stew recipes, but all you need is to get the basics right, use your imagination, and taste it as you go.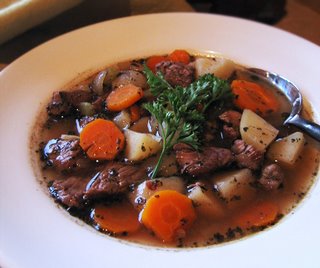 1. Brown the meat a lot. For a stew brown the meat in small batches so that it really fries and browns on the outside rather than stewing in its own juice. For a pot roast thoroughly brown the joint on all sides. The meat will stick to the pan initially: keep calm, as it browns it will come free.
2. Meat with more connective tissue takes longer to cook, but will be tastier. Shin makes the best stew, brisket the best pot roast. If you want to save a bit of time, our well trimmed diced beef or a silverside joint will cook faster.
3. Not too much liquid: stew should be just covered, pot roast half covered. Stock or beer are good, but water is fine. A bit of flour to thicken a stew is OK, but careful not to overdo it.
4. Softened onions are the only essential, but be imaginative about what you add: all sorts of winter vegetables, diced bacon, mushrooms, tinned chick peas, lots of herbs, tomato puree, olives... whatever you feel like. Anything that is likely to fall apart can be added later in the cooking process.