HOME
FARM SHOP
BUTCHERY
DELI
ABOUT US
NEWS
COOKING

10 am to 5 pm

In Shop Today:
Cheddar Strawberries English Asparagus Kebabs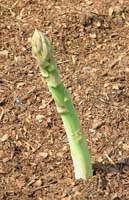 Is this spring or summer?
2/6/23
After years of saying "this is too early, it must be global warming", we have had a cold spring which means that most plants are a month behind. Asparagus is particularly sensitive to temperature, with its daily growth directly proportional to temperature. However, the asparagus is here now, as are strawberries. The strawberries have actually benefitted from their delayed growth, being sweeter and tastier as a result.
&nbsp