HOME
FARM SHOP
BUTCHERY
DELI
ABOUT US
NEWS
COOKING

Spicy Lamb Neck Fillet with Spring Vegetable Salad
Serves 2.
Lamb neck fillet is great for this, as it has fat marbled through it and is wonderfully juicy. Unlike loin, it will not go tough and dry if you cook it beyond pink. Grass fed spring lamb appears at about the same time as the first broad beans.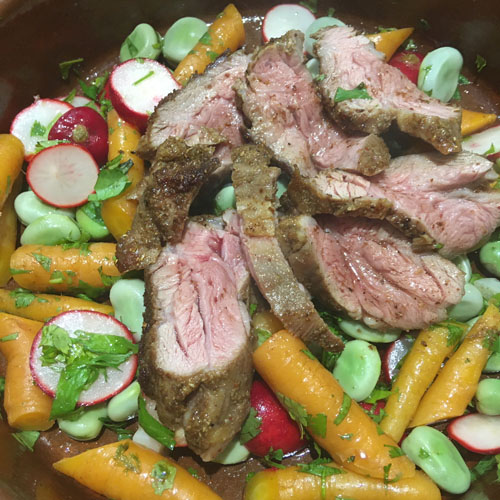 Ingredients
200g broad beans when podded
200g baby carrots
150g radishes, sliced coarsely
juice of &frac12 a lemon
2 tbsp olive oil
&frac12 tsp soy sauce
1 tbsp choppped coriander leaf
1 lamb neck fillet
1 tsp cumin
1 tsp coriander seed
&frac12 tsp chilli flakes /powder
&frac14 tsp salt
Preheat your oven to 200 C. If using whole spices grind them and the salt together finely, or mix well if using ready ground. Dry the lamb fillet with kitchen roll, then roll in the spices to cover it totally. Fry in 1 tbsp of the oil until nicely browned, then transfer to the oven. It will need about 10 - 15 minutes depending on size. For best results use a meat thermomemeter and cook to 50 C for pink of 55 C for more done.
Meanwhile blanch the broad beans and baby carrots for three minutes, then drain and refresh in cold water. Cut the carrots into bite size pieces and mix with the beans, radishes, oil, lemon juice, soy and coriander leaf to make the salad.
When the lamb is done, take it out of the oven and rest for at least 5 minutes. Slice it up across the grain and scatter onto the salad, along with any juices that run out.