HOME
FARM SHOP
BUTCHERY
DELI
ABOUT US
NEWS
COOKING

Merguez Sausages with Cous-cous and Vegetable Stew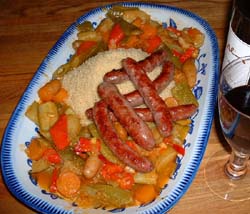 In North Africa, Merguez sausages are often served grilled with cous-cous and a vegetable stew. They are usually made of lamb, but also sometimes beef. We make both types in the shop. The sausages should be grilled or fried fast, unlike pork sausages which should be fried gently. Don't stint on the Merguez, as they are nice cold if you don't eat them all.
Cous-cous:
Traditionally this would be steamed over your stew, but this way is a lot simpler. Allow 1/3 to ½ cup of cous-cous per person. Put equal volumes of cous-cous grains and boiling water into an oven-proof dish with a knob of butter and stir so that the water is absorbed.Cook covered in a medium oven for 5 minutes, then fluff up the grains with a fork and return to the oven for another 5 minutes.
Vegetable stew
2 tbsp oil or butter
1 large onion, chopped
1 red chilli (optional) de-seeded & chopped
2 cloves garlic chopped
1 tsp cumin
½ tsp ginger
1 tbsp tomato puree
Salt and black pepper
A selection of veg, e.g. carrots, courgette, pepper, squash, beans, potato cut into bite sized chunks
Soften the onion, garlic & chilli in the oil or butter, then add the rest of the ingredients with enough water to cover. Simmer for 40 minutes. N.B. any veg prone to falling apart can be added half way through.