HOME
FARM SHOP
BUTCHERY
DELI
ABOUT US
NEWS
COOKING

Rolled Breast of Lamb with Leeks and Flageolet
Serves 3. An unusual serving number, but that is the size of a breast of lamb!
Breast of lamb is a fatty cut, but cooked long and slow the fat renders out and forms a sort of confit of the meat. Strong flavours in the stuffing cut through richness of the meat. Using some of the lamb fat to cook the leaks and beans ties the whole thing together. You can make a gravy with the roasting juices, but it is not essential.
Ingredients
1 boneless breast of lamb
1 clove garlic
2 tbsp chopped sundried tomato
1 tbsp capers, coarsely choppped
3 anchovy fillets, chopped
2 tbsp couscous or breadcrumbs or quinoa
2 glasses white wine (optional)
1 large / 2 small leaks sliced
1 tin flageolet beans
1 glass white wine
100 ml double cream
If the lamb is already rolled, unroll it. If it has been secured with butchers elastic bands, save them. With the meaty side down and the fatty side up score through the fat in a diagonal pattern the whole length. Your butcher will / should do this for you if asked.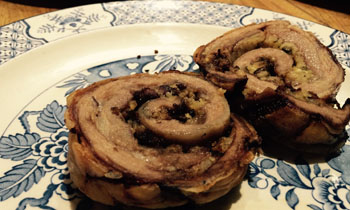 Turn the lamb over. Mix the the garlic, tomato, capers, anchovy and couscous together with enough water to make a coarse paste. Spread over the lamb, keeping it away from the very edges. Roll it up so that the fattiest end finishes on the outside, put the butchers bands back on or tie with string. Cook covered in foil at 120 C (gas mark 1) for three or four hours.
Half an hour before serving remove the foil, baste the lamb and pour off the fat, saving 2 tablespoons for cooking the leeks. If you want some gravy, pour two glasses of white wine into the roasting tin. Return the lamb to the oven at 200 C (180 C fan, gas mark 6) to crisp up.
Gently fry the leeks in the lamb fat, until nice and soft. Add the wine and bubble to reduce slightly. Then add the flageolet beans and cream and bring back to a simmer for a few minutes. Season with salt and pepper. Cut the lamb into six thick slices like savoury Chelsea buns and serve on top of the leeks and beans.