HOME
FARM SHOP
BUTCHERY
DELI
ABOUT US
NEWS
COOKING

three meals
that we regularly make from one chicken.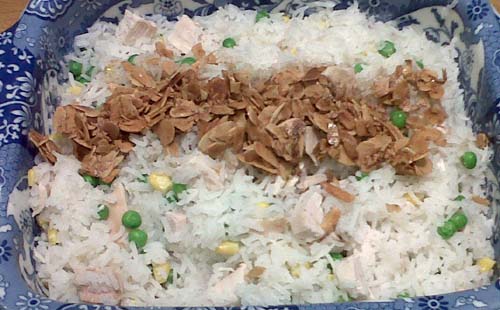 Ingredients
250g / 8oz basmati rice
1 tsp vegetable stock powder
50g / 2oz frozen peas
25g / 1oz frozen sweatcorn
250g / 8oz cooked chicken
25g / 1oz flaked almonds
50g / 2oz butter
Cut the chicken into bit size pieces. Cook the rice in a large pan of water with the vegetable stock powder dissolved into it. Five minutes before it is done, add the peas and sweetcorn. When the rice is just tender, take it off the heat and drain it. Tip it into a serving dish and stir the chicken into it. Fry the almonds in the butter until golden. Give this your full attention as when they do start to colour they go very quickly and it is easy to burn them. Pour the almonds and butter over the dish and serve.