Home
Products
Timber Info
Activities
Lettings
About
Contact

Walking
We welcome walkers in the woods. Enjoy the calm, listen to the birdsong, feel the majesty of the big trees. Relax and enjoy your factory visit. This is our factory, producing 4000 tonnes a year of sustainable, carbon storing, valuable raw material. We hope you find it beautiful: it is certainly better than a cement works. Forestry and recreation go well together. We work our way rounds the woods on a five year cycle. For four out of five years you can enjoy any area of the woods in peace. In the one year of activity please be sensible. If a sign says do not enter, it is because there is genuine danger from forestry activities, not just because we want to disrupt your walk. Dogs are welcome under strict control.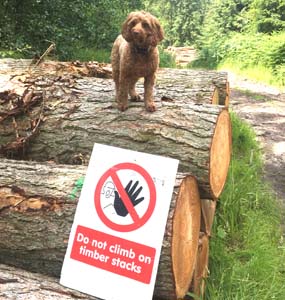 We offer a free guided walk to groups of 6 to 20, explaining how we manage the woodland and the benefits of active forest management. We can tailor the visit to suit the party, both in terms of the terrain covered and the technical level of the content.
Two long distance footpaths run through the estate: the Leland Trail, part of the Macmillan Way network, and the Stour Valley Way. The former is named after John Leland who made a long tour of England's monasteries as King Henry VIII's antiquarian. His role appears to have been to record and copy valuable documents before they were flogged off as part of the dissolution process. The latter roughly follows the river Stour, but actually charges up and down the hills either side of the valley. It is good exercise, but using some of the other footpaths and a bit of road makes it a bit less daunting.
Sadly, we have a number areas that have been infected with Phytopthera ramorum, a serious tree disease that has swept through larch trees in western Britain. This is just one of many plagues that are attacking our woodlands. You can help by cleaning your boots before and after any woodland visit, to prevent the spread of spores.