Home
Products
Timber Info
Activities
Lettings
About
Contact

Mountain Biking
We operate a permit scheme for mountain biking. This gives access to over 50 miles of woodland tracks. Permits cost £10 per rider per year, and run from April to April. If you buy your permit after 1st October it will be half price. If you buy one in the new year we will give you one for the following year. We will send a map to all new permit holders. Please attach the permit tag to your bike: it lets us know you have a permit and you will have it with you if there should be an accident. The back of the tag lists emergency information.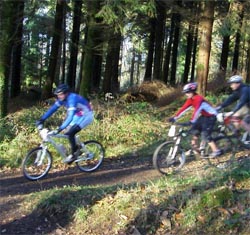 The permit gives access to all the woodland tracks in the area shown on the map. Please stay on proper tracks. Diving off through the trees causes damage to young seedlings and puts you in danger: deer stalking takes throughout the year. Some tracks can be very wet in winter, so please use your good sense. Tracks can also become obstructed by low branches or fallen trees. If this happens please let us know and we will clear the obstruction.
To obtain a permit please ring Sally Monkhouse on 01747 445004, e-mail at sally.monkhouse@stourhead.com or visit Stourhead Farm Shop.
There is also a series of competitive events organised by Gillingham & District Wheelers.