Home
Products
Timber Info
Activities
Lettings
About
Contact

Modern Shiplap Cedar Cladding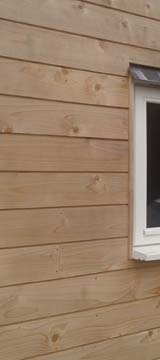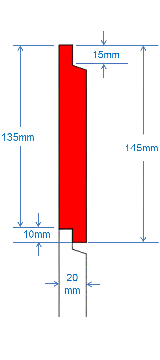 This is a very simple profile giving a flush finish and a clear shadow line. The advantage of a lapped profile over a tongue and groove design is that it is possible to remove a single board if it is damaged, or you need access behind it, rather than having to strip half the wall.
Timber Appearance
Our Western Red Cedar (Thuja plicata) dries to a uniform honey colour. It has a scattering of small knots, all of which are "live", i.e. do not have a dark bark ring and will not fall out. The knots are all from branches below 22mm diameter. This conforms to BS1186-3 class 1, which while not really designed for use with cladding is sometimes specified. Cedar does not have any resin pockets.
Moisture Movement
Machined from air dried stock, shrinkage will be nedligible. It is not necessary to leave a gap when installing as cedar is stable, so there is no danger of the boards popping off the wall.
Durability
There has been limited testing at Imperial College that suggests that UK grown cedar is as durable as US imports (some of it with Stourhead timber), but it has not changed the official durability rating, which gives a minimum service life of 30 years. In most circumstances expect more like 50 years.
Cedar will weather, see the design page for more information.
Price (Ex Vat)
£3.97 /linear metre, equivalent to £29.41 /m2
To Purchase
As this comes from stock material, lengths are random. Most will be in the region of 3.6m, but their will be pieces down to 1.8m.
Ring 01747 445004 or email nick@stourhead.com .